About Us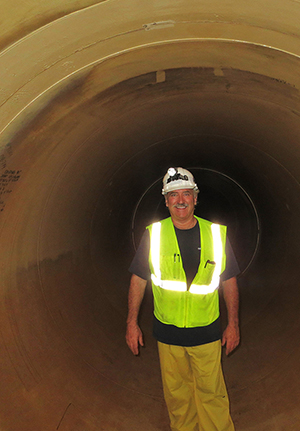 Ed Darrimon, President & Founder
Since 1987, Bay Area Coating Consultants, Inc (BACC) has been providing its clients the most advanced inspection and technical services in the industry. Founded by Mr. Ed Darrimon and based on his philosophy of maintaining the highest of standards, BACC always approaches projects from the owners point of view: Cut costs, but never compromise on the quality of the work his clients expect. To be an industry leader, Bay Area Coating Consultants will only work for Facility Owners and Engineering firms to insure our excellent reputation of a totally independent inspection firm. Our employees are long term members of our team, not just hired for your project, long term employees committed to excellence.
Bay Area Coating Consultants started with Ed Darrimon's twelve years experience with East Bay Municipal Utility District in the Engineering and Facility Maintenance Departments, which resulted in developing the Districts Reservoir rehabilitation program. With Ed's experience and knowledge, he started BACC and has been in the coating industry for over thirty years and serves on numerous committees and Board of Governors for coating related organizations - AWWA, SSPC and NACE. Bay Area Coating Consultants has completed projects from Mainland China to across the entire United States.
The company is supported by a loyal team of inspectors who have been with BACC for ten years or more, who are highly skilled, and believe in Ed's philosophy of being proud to implement the highest of standards. Through constant communications and training, the BACC team can offer clients' the collective knowledge and experience – BACC is a smaller firm with a lot of punch! The BACC team go through complete safety training every year, are part of the DISA drug-testing program, and due to the large amount of Refinery work, the BACC team completes the Department of Homeland Security background check program (TWIC).
"After 36 years of service, and thousands of projects, we have never experienced a coating or lining failure…An industry record that few can claim!"
- Ed Darrimon, President and founder of Bay Area Coating Consultants
Mission Statement
Bay Area Coating Consultants Inc. has a commitment to excellence serving Owners and Engineers for over thirty years.
Coating inspection and consulting-it's all we do.
Since 1987, this single-minded focus has allowed us to make some unique commitments to both clients and staff. It has opened the door to the very best talent in the coating industry, innovative coating solutions, unparalleled client service, and above all, a collaborative and collegial working environment that makes us a great company to work with. A truly independent consulting and inspection firm. BACC goal it to provide our clients with a professional NACE inspection Team that have remained with the firm many years, by having Team members that have been with the firm many years they are constant with our training and inspection policies of Excellence. Bay Area Coating Consultants Inc. continues to train our Team with the latest safety standards including our safety partner Safety Services, DISA, and ISN BACC continues to provide our Team with industry training and current standards and guidelines. All of our inspectors are equipped with state of the art Elcometer inspection equipment. Our goal is to provide value engineering with coating and lining and inspection and specifications utilizing the latest surface preparation and coating technology.
The fact that this message is as relevant today as it was back in the 1987 is a reaffirmation of the core character and values of our company. The pressing challenges of today's coating industry require the concentrated focus provided by a specialist firm – one that is passionate about quality, and welcomes the obligation to get the most out of this precious resource (Quality through Experience).